Rebuilding a Dream Home in the Keys post Hurricane Irma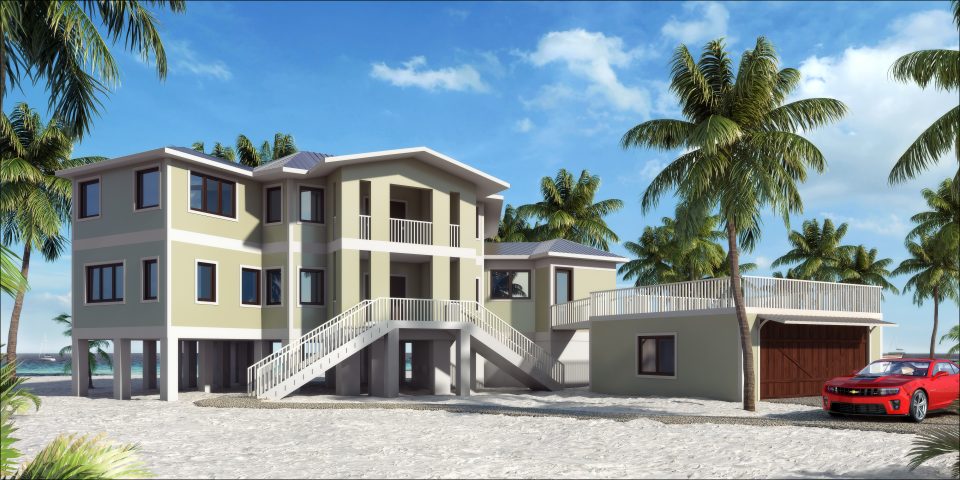 From the desk of Joe Moody:
On the first day K2Mrs were allowed to enter the Florida Keys after Hurricane Irma, I received a call from Drs. Douglas and Gerry Mader. They were referred to K2M by a mutual friend Tim Root, CEO of McKendry Builders and needed a professional to inspect and evaluate their home. Within 24 hours of receiving the call, we were onsite performing the first of many dozens of residential engineering inspections for our Keys neighbors. Unfortunately, the dream house they built together, got married in, and have lived for over 25 years was beyond repair.
With K2M's attention to detail, we were hired to design a new dream house for the Maders. K2M architect and Big Pine Key resident, Erica Poole, designed the new 3,200 square foot primary house plus garage and ground floor enclosure. The home has been designed to maximize the views to the exterior with personal touches everywhere. According to Dr. Mader, "K2M listens and are very receptive. They are brilliant and have excellent ideas how to incorporate ours in to the overall design. They've been incredibly easy to work with and have been good communicating the processes and paperwork needed for permitting."
It has been an honor and privilege to work closely with so many of our Keys neighbors these last several months since Irma, as we together rebuild our community. Here's wishing each and every one of you a speedy recovery to normalcy. Should you ever need an architect, engineer, interior designer, or condition assessment specialist do not hesitate to give us a call.