The Statler Shines Bright in the Downtown Cleveland Landscape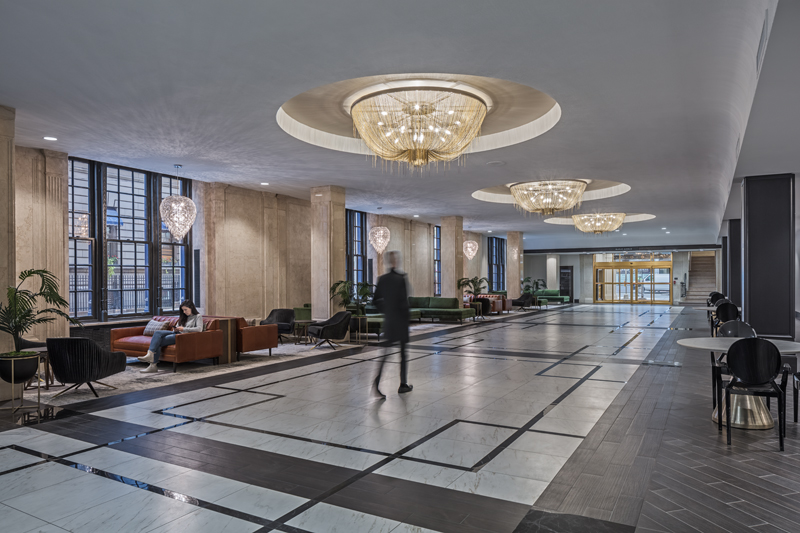 The historic 15 story Statler Arms building went through a complete $14M renovation and conversion into a luxury apartment complex. Located near Cleveland's Playhouse Square theater district, The Stater was restored to the grandeur of its historical past, as one of the most elegant hotels in the city. The rich and refined color palette turned this dated and tired property into a unique upscale destination for Cleveland's city dwellers to live, work, and play.
The restoration efforts revealed historical elements in the Grand Entry that were part of the original hotel, blending seamlessly with modern amenities and features. The main lobby corridor was reimaged, replacing dull and outdated finishes with luxurious materials including black and white marbled tile and rich, espresso wood-tones. Emerald velvet and cognac leather sofas entice tenants to take comfort in lounge areas while brass accents adorn furniture and lighting fixtures.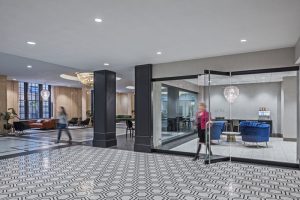 Geometric floor tiles guide prospective tenants to the fully renovated leasing office.  Floor-to-ceiling glass store front windows provide separation, while allowing clear views throughout the lobby space. A rich wood paneled circular concierge desk near the marble flanked brass-front elevators complement the opulent makeover.
Upgraded amenities include a new Community Room complete with a fireplace, kitchen, billiards and poker tables. The space was thoughtfully designed to accommodate multiple groups and enhance social connectivity. The expansive space features barreled ceilings, neutral colors, and a variety of seating options. Steps from the Community Room is a new outdoor courtyard with a gas fire pit, yard games, and space to lounge and connect.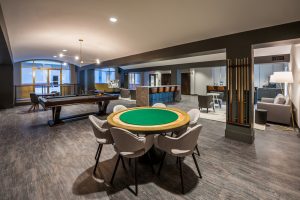 The 295-unit building offers 1,2, and 3-bedroom residences, with open floor plans, expansive windows, and views of the city. The newly renovated apartments feature modern finishes including warm, wood-look plank flooring throughout the apartment. Kitchens are upgraded with espresso cabinets, clean, white quartz countertops, subway-tile backsplash, stainless steel appliances, and contemporary LED lighting fixtures. Penthouse suites on the top floor include glass-front upper kitchen cabinets, elevated decorative lighting, and individual balconies. New bedroom carpet, shower surrounds, and fresh painted doors helped complete the apartment modernization.
The once dated and tired property now shines as proud as its history allowing residents to indulge in living within the heart of downtown Cleveland.
K2M Design was honored to receive a Multi-Family Interior Design of the Year for our work at The Statler, as well as a Historic Preservation Merit from Ohio History Connections.