K2M Design Expands Engineering Capabilities with Seasoned Professionals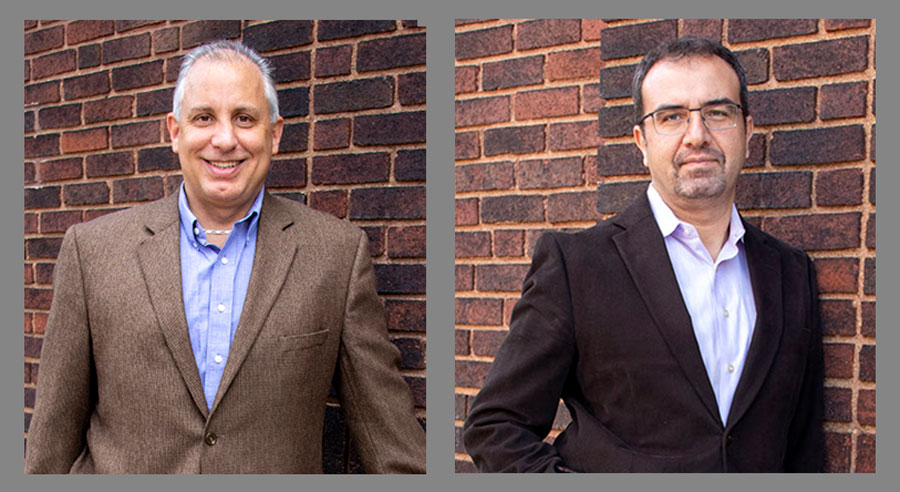 Mark Wutz, Director of Engineering, and Reza Motarjem, Structural Engineering Lead, Join the K2M Team
Cleveland, OH – September 2019
The K2M team is excited to announce that Mark Wutz, PE, CEM, LEED AP, CPMP, CDSM, CPM has joined K2M as the Director of Engineering, strengthening the teams engineering capacity and reach. Mark brings over 26 years' experience in the Assessment, Design and Commissioning of Mechanical Systems, both as a Consulting Engineer and as a Contractor.
Mark's vast experience brings expertise to our project teams in the governmental, institutional, commercial, healthcare, and educational markets, for both small and large project sizes around the world. Mark is a strong communicator, engaging and leading project teams through all phases of a project.  As a Certified Energy Manager, Mark incorporates best practices into mechanical systems, along with being a ASHRAE Certified Commissioning Management Professional, expertise that will further enrich K2M's engineering services.
"Mark's breadth of knowledge and technical expertise is invaluable to the K2M team, we are extremely excited to have him leading our engineering team and working in concert with our architecture and interior design teams!" states Kristin Cloonan, K2M Design's Chief Experience officer.
In addition to Mark, the team also welcomed Reza Motarjem, PE, SE as Senior Structural Engineer. Reza brings nearly 20 years of experience designing industrial, commercial and institutional projects types. Reza is an expert in specialty engineering techniques, including large scale cold formed metal framing and building envelope systems. Reza will work with Mark and the team to grow the current capacity of K2M Design's engineering reach within our full-service firm.
About K2M Design, Inc.
Empowered individual leadership and creativity embody the strengths of our design teams. We are a dynamic, high-growth Architecture, Engineering, and Interior Design firm with a multi-discipline Facility Assessment division. Our established regional teams are strengthened by the depth of our experience and are united by an ambitious spirit and proven ability to manage projects. The People of K2M are our most valuable resource and your Project is their passion. That is the drive behind our design services. Our professionals are invested in nurturing long-term relationships and the ongoing success of your projects. We are living out our mission of Building Relationships Based on Trust and Results. In addition to our two offices in Ohio, K2M has offices and supporting staff in Baltimore, Charlotte, Indianapolis, NW Arkansas and the Florida Keys.
For More Information, Contact:
Stephanie Cieszkowski – K2M Design, Inc.
scieszkowski@k2mdesign.com
Ph: 216.588.0739
###