K2M Celebrates 16 Years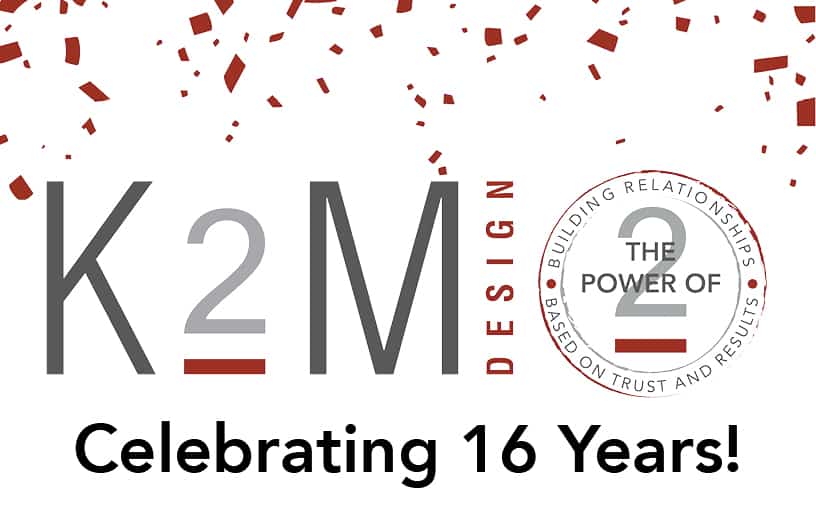 Today K2M announces another milestone in our evolution – our 16th Anniversary! Growing a practice from very humble beginnings that began with the 9/11 tragedy so many years ago, to what we've become today, is truly amazing. Amazing in the fact of what we've been able to accomplish together, but also humbling with the continued support of so many friends of K2M around the world.
As we discussed what to share with the K2Muniverse, we realized it's the power of our commitment to our founding vision, set so many moons ago, that has led to our tremendous success and growth.
Our commitment to:
Establishing a Full-Service firm with a national focus offering our clients a one-stop shop from project planning through construction administration.
Creating a culture focused on our people who deliver quality projects day in and day out. K2M has been consistently recognized as a Great Place to Work.
Strategic and laser like focus on our project delivery. We continue to drive proper project rhythms across the business making sure our Clients are #1.
Serving our clients broader needs and opening new markets with the acquisition of Solaria Design & Consulting (10/2014) and InterDesign Group (5/2017).
Providing our clients greater accessibility and a local presence with the growth to 9 offices that span the eastern United States, including organic growth in Rogers, AR, Columbus, OH, and Key Largo, FL.

K2M By the Numbers
85 people across all disciplines:

50 Architects
10 Engineers
11 Interior Designers
2 Quality Control specialists
5 Facility Condition Assessment Specialists
1 Landscape Architect
7 Support Team

Services – Planning, Architecture, Interior Design, Landscape Architecture, Structural, Mechanical, Electrical, Plumbing, and Specialized Consulting
Project Types: Hospitality, Senior Living, Commercial Office, Retail, Residential, Education, Government, and Corrections
Thank you again for all your support, your trust, and your confidence, as we work together to accomplish our shared goals. We are truly blessed and thank everyone for their contribution to making K2M all that it has become.
Building Relationships Based on Trust and Results!