Welcome to Innovation Landing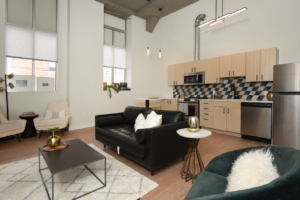 Welcome to Innovation Landing, the newest addition to the vibrant community right on the edge of the Cleveland State University campus. Our multi-family complex seamlessly blends modern amenities with a historic shell, capturing the essence of these structures. Finishes are inspired by the historic warehouse architecture with an added touch of quirkiness in the main lobby.
There are a variety of lounge spaces on the first floor. Innovation Landing is the perfect place for community socialization, including cheering on your favorite Cleveland teams on the big screen or finding quiet time in the dedicated study lounge. Each unit features a clean and neutral palette, waiting for your personal touch to make it your own.
We pride ourselves on creating a living environment that is both functional and aesthetically pleasing, with attention to safety and sustainability. Our team of architects, engineers, and designers have collaborated to provide you with a space that you will be proud to call home. Come experience the spirit of Cleveland at Innovation Landing. https://lnkd.in/gnFP_jxk