Westminster Village North: Thinking About Tomorrow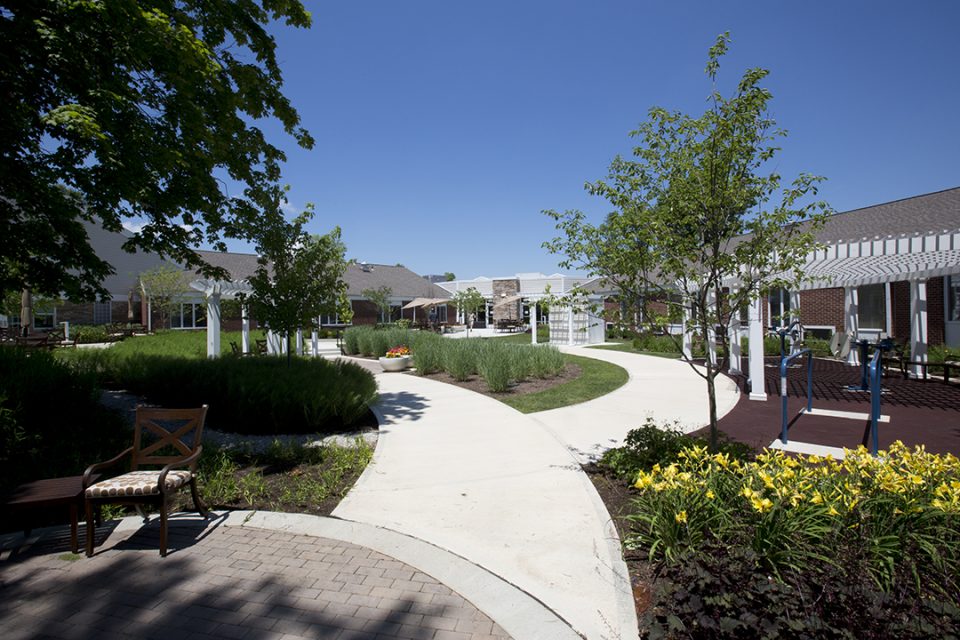 Westminster Village North, Inc., in Indianapolis, Indiana, is a thriving senior living community that took a hard look at how they could remain viable in a changing marketplace. Partnered with InterDesign, now a K2Mpowered company, Westminster Village North took a bold step towards their future; and this is their story.
---
"Westminster Village North's board was very forward-thinking," says architect Jerry Cripps, who became the firm's liaison upon Spear's retirement. "Early on, they recognized that they needed to take a long-term approach to repositioning the campus if they were going to remain competitive and fiscally viable."
The master plan put the board's willingness to change to the test. The architects recommended razing five of the older buildings and replacing the Plexiglas "tubes" with more functional corridors. While those enclosed walkways were innovative at the time of installation, Rauch says they had become a point of frustration. "The heating and cooling was no longer functional," Rauch explains, "and residents had to travel through them frequently. That was not the safest idea in extreme heat or cold."
Why replace instead of rehabilitate? "A lot of the existing buildings just had too many limitations," explains Cripps. "For example, some were built like hospitals, with low floor-to-floor heights and narrow distances between the center corridor and the exterior walls. Many of the masonry walls were load-bearing, with some first-floor walls 18 inches wide. Over the years, those tiny rooms were cobbled into a variety of funny-shaped configurations. It would have been very expensive to retrofit mechanical systems to ensure that they were meeting today's codes and the expectations of today's residents. Often it's more financially viable to demolish a building and go back in with something you've designed for what you want to provide."
---
A modernized Westminster
The master plan's initial recommendations involved nearly $23 million of new construction and renovations. Existing buildings were repurposed to meet the changing needs of residents, such as space for patients with Alzheimer's — a condition that wasn't readily recognized at the time of the original renovation. The plan provided wide, bright connecting hallways, allowed for an expansion of the health center, centralized all service activities, and added a three-story independent living building with plenty of office space. It also called for the construction of additional duplex residences with walk-out basements, which proved to be wildly popular among seniors who didn't want to give up their hobbies.
Our team of architects also examined ways to reduce costs by streamlining operations. "We hadn't realized how efficient we could be," says Rauch. "At the time they developed the plan, we had eight separate kitchens, including satellites, and eight dining rooms. Their recommendations helped us reinvent the way we provided meal service to our residents so it would be more efficient, make the best use of our staffing levels, and make processes easier for our staff."
Just as important, the plan sought to improve the community's curb appeal. While residents enjoyed the wooded setting, the extensive greenery rendered the campus all but invisible from nearby roads. By clearing a corridor between Sunnyside Road and the new independent living building, the plan created an attractive front door while reinforcing the fact that Westminster was surrounded by mature trees.
Beyond making recommendations for the facilities, the plan also spelled out a three-phase approach to construction that would minimize the impact upon current residents. "The architectural team was instrumental in helping us accomplish these changes without putting the lives of our residents into turmoil," Rauch notes. "It showed us how we could get to where we needed to be and still satisfy our residents with a high-quality experience."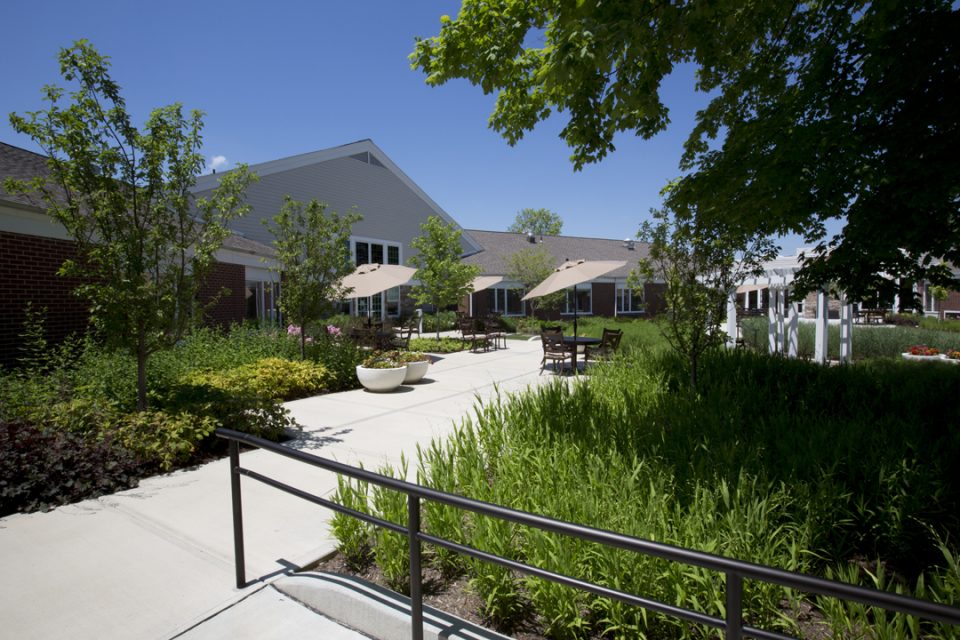 Improvements are ongoing
Since the original master plan, Westminster Village North has continued to work with this team of architects to keep the community ahead of the ever-changing marketplace. Recent projects have focused on adding space for short-term rehabilitation patients. "People who need a rehab setting aren't as willing to accept semi-private rooms that look institutional," says Rauch. "Hospitals are leading the expectations with more homelike settings, and we've moved to what feels like a private suite for rehab patients." An added advantage is that someone who has a positive experience while recovering from surgery or a medical problem may be more likely to become a resident in the future.
Wellness considerations are important, too, Rauch notes. "This architectural firm has helped us find ways to utilize our grounds to help people with our wellness goals. That includes everything from creative therapy spaces, to outdoor therapy gardens, to offering indoor and outdoor routes between buildings to ensure that residents can get the exercise they need, no matter what Indiana's weather may bring."
In just under a century, the property has been transformed from a place designed to isolate people who need rest into a thriving community focused on active lives. Thanks to thoughtful planning and prudent investment, Westminster Village North is healthier today and better able to withstand competition.
For more information on senior living campus and facility design, reach out to Director Phil Howard.
---
About K2M Design & InterDesign
K2M Design®, Inc. continues our strategic growth with the acquisition of The InterDesign Group, located in Indianapolis, Indiana. K2M Design officially acquired InterDesign on May 1, 2017, integrating a talented team of Architects, Interior Designers, Project Managers, and Construction Administrators.
Having completed over 200 projects in the Senior Living and Healthcare markets, the team brings a depth of talent to K2M. Stronger together, we will continue to be leaders in the market, designing for the next generation of seniors.