K2M Design® Leads Hooverwood Jewish Home In Community Expansion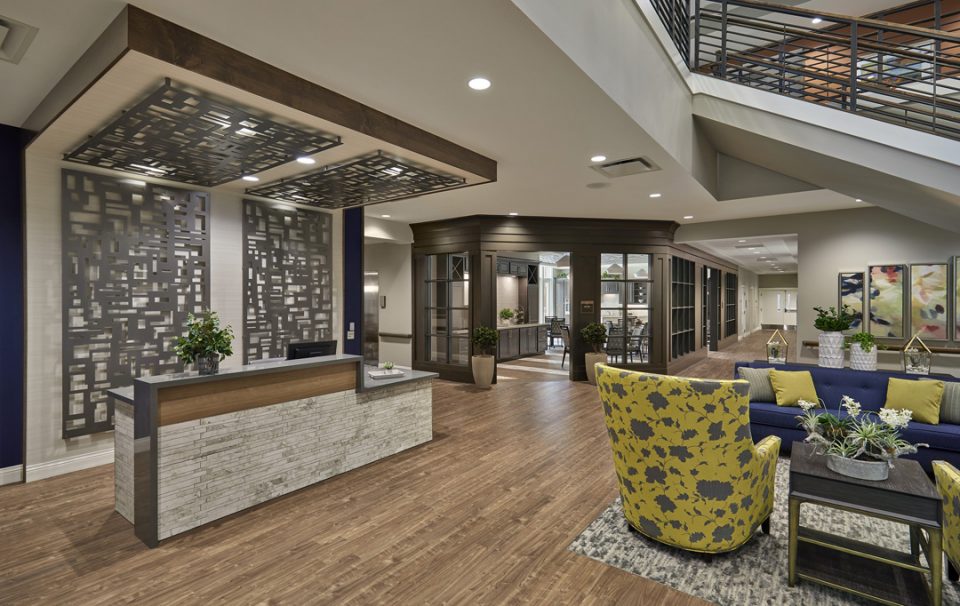 New Assisted Living Wing Expands Services
Indianapolis, Indiana – February 2020 – K2M Design, Inc. was proud to provide architectural design services to Hooverwood Jewish Home in Indianapolis, Indiana for its newly opened Residences at Kraft Commons.  This new luxurious assisted living wing, an addition to their recently renovated long term care and skilled care community, has allowed Hooverwood to extend their continuum of care to include licensed assisted living.  Architects and Interior Designers from K2M joined forces with The Hagerman Group, an Indiana/Kentucky based construction company experienced in large scale projects, to meet the expectations and overcome schedule challenges in this campus expansion.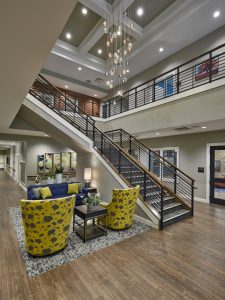 With new leadership coming on board in the midst of construction for both the renovation project and new assisted living addition, the Hooverwood Board paused to reevaluate project goals.  This pause initiated a redesign of the major common areas in the new assisted living wing and an expansion of the kitchen design which would now serve the entire campus. Through several focused charrettes, the team was able to change course and ultimately deliver a new product that exceeded the owner's expectations.
The Residences at Kraft Commons is a 33,000 S.F. addition adding 26-upscale studio, 1-bedroom, and 2-bedroom apartments to the community. The new apartments feature up-graded finishes, accessible kitchens, and private baths with roll-in showers. One of the major design changes surrounded the two-story atrium space of the entry lobby. A grand staircase was added allowing free-flowing access between all major common areas.  This elegant stair intertwines the two levels – anchored on the main level by a sitting area rich in color and pattern and crowned with a multi-pendant cascading light fixture made up of 36 hand-molded crystal cubes cascading down thirteen feet from the coffered ceiling above.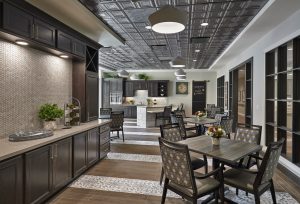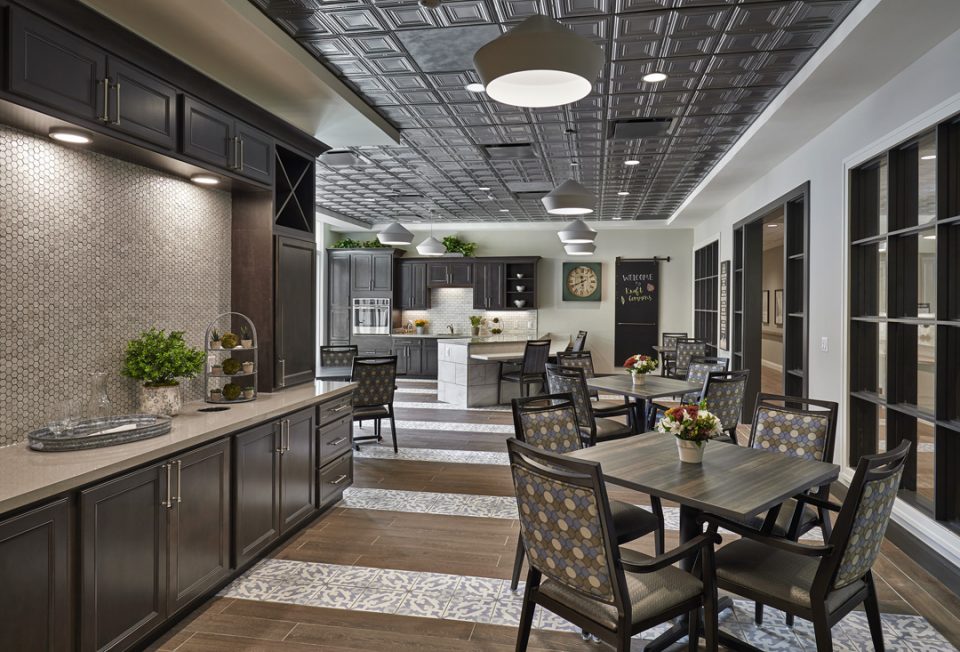 Encompassing the stair on the main level is the concierge's desk highlighted with a laser-cut metal canopy and backdrop; a European inspired Bistro; a small, glass-enclosed sitting area with a French-country- meets-modern vibe; and a restaurant-like dining room with a double-sided stone fireplace, smaller intimate seating area, and an interactive chef's line served. The second level common areas include an open balcony with library/reading areas, game tables, and a corner conversation nook, a custom theater room, and a vibrant fitness/wellness room all equally finished to inspire and refresh.
K2M Design has provided Hooverwood with a luxurious, up-scale design that will live long into the future. A short pause was enough to take bold steps in a direction that has proven to be worth the wait. This project was a successful example of a team's commitment to the process and dedication to the client's vision.