Friends Fellowship – Celebrating 50 Years of Independent Living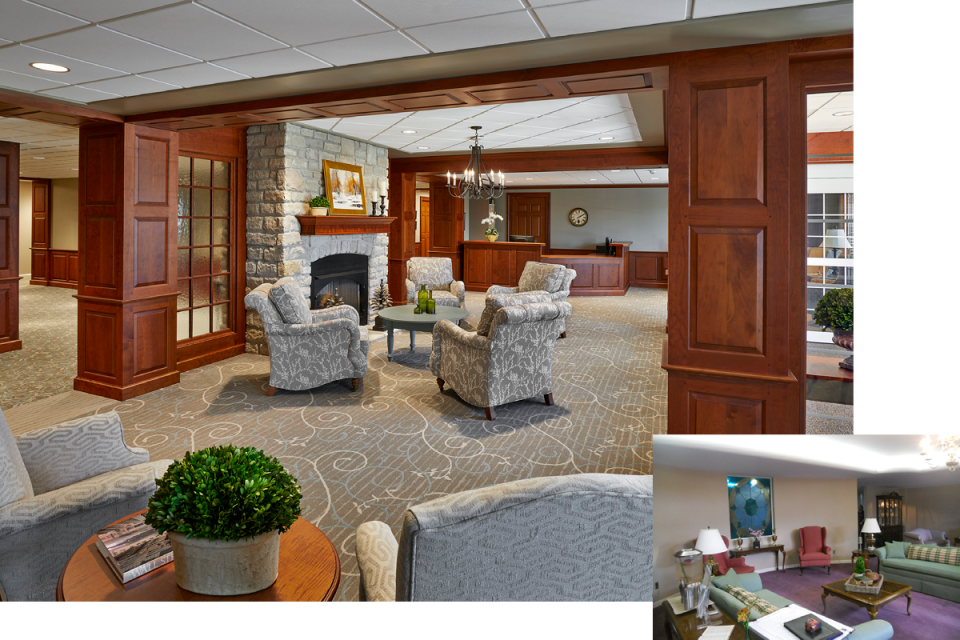 Golden Anniversary Brings Welcome Change
Pictures are truly worth a thousand words, and these before and after photos are a great reminder of their power. Friends Fellowship Community is no stranger to change and growth. For more than 50 years they have been expanding their continuum of care, adding buildings and services. This has happened everywhere on their 125-acre campus except in Independent Living (IL). The original 1965 structure remained virtually untouched until leadership planned a refresh to celebrate the golden anniversary of this milestone.
---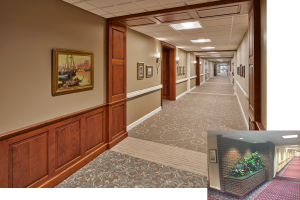 Love where you live. A short walk on any path amid the rolling hills of this picturesque campus, and it is evident why the residents of Friends Fellowship love where they live. In contrast, when you stepped inside the doors of the IL wing one would have found a dated entry, lacking in identity and orientation. This is no longer the case! All the ambiance that is on the outside is now part of the day to day life on the inside. Warm wood tones, a rustic fireplace, custom carpets and upscale furniture create a modern elegance in this new destination space. A concierge's desk serves residents and welcomes guests into the completely renovated administration area and connecting corridors. Pam Merchanthouse, Vice President of Customer Service states, "Having someone to greet guests when they enter, just starts the feeling here. It feels like home."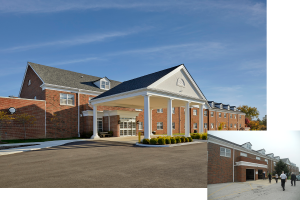 Best friends come through the back door. Everyone agrees the best part of this community is the community. The main parking lot for both IL residents and staff is in the back of the building. A garage entrance with an understated man-door was the staging area for community outings and had become the hub of many social interactions. A new canopy covers the full glass pick-up/drop off door that leads directly into a brand new lounge. This airy, garden-like entrance is the preferred entrance amongst locals. The painted white woodwork of the built-in shelving, fireplace and coffered ceiling is reminiscent of what one would find in their own living room.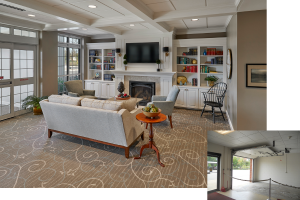 Positive change. It is easy to appreciate custom woodwork and beautiful furnishings; but this renovation went much deeper. After 50 years of uninterrupted service all mechanical systems were updated, improving air quality and energy efficiency. Lighting in all the corridors and common areas was upgraded, completely transforming these spaces. The front door was made accessible with the addition of a ramp and extensive landscaping. Pam stated, "We bought all new patio furniture for this area and the residents love being out there. In fact, they are using the walking paths more than ever before." Front door parking was also expanded with the entrance drive was reworked. Car ports were remodeled to reflect a barn-inspired design while the deliveries were relocated to a side entrance. The ever-changing expectations in the Senior Living market will continue to be the impetus of change, but done right, will always prove positive. Friends Fellowships prides themselves on actively refining what retirement living can and should be.