Expectations from Today's Seniors… and Tomorrow's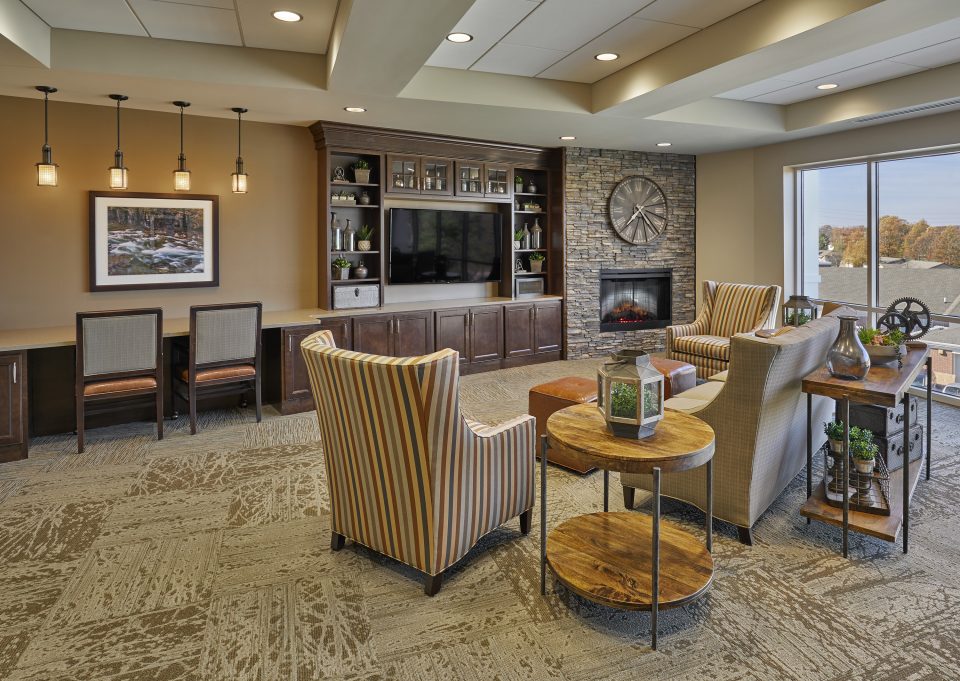 Westminster Village North, Inc., in Indianapolis, Indiana, is a thriving senior living community that took a hard look at how they could remain viable in a changing marketplace. Partnered with InterDesign, now a K2Mpowered company, Westminster Village North took a bold step towards their future; and this is their story.
---
Not all that long ago, the phrase "senior housing" conjured up long hallways illuminated by four-foot-long cool-white fluorescent tubes and lined with spartan semi-private rooms. Seniors called them "nursing homes" and feared them, because being consigned to a nursing-home bed was viewed the equivalent of giving up on life. Sure, some homes offered hallways with colorful wallcoverings and rooms with bright windows, but even at the nicest ones, the feel was decidedly institutional and invariably depressing.
Click to download this article >
No longer the last resort
"Today's consumer isn't as frightened of long-term care," suggests Shelley Rauch, MBA, HFA, Executive Director of Westminster Village North in Indianapolis. She gives part of the credit to increased use of social media and websites that allow potential residents to research facilities. But she sees the primary reason as a different attitude. "Couples are making decisions about retirement housing earlier," Rauch says. "They want to ensure that their retirement years will be what they envision and that they'll be able to do all the things they want, but with the added security of a safe environment that promotes their wellness."
Like many Life Plan communities (the term Leading Age advocates for continuing care retirement communities), Westminster Village North uses life occupancy agreements to ensure that residents will have access to higher levels of care, even if they outlive their financial resources. That's particularly appealing to Baby Boomers who watched their parents struggle with finding the right care for an ailing spouse. "We hear a lot of new residents say that they want to make the decision so their kids don't have to," Rauch adds. "That's a very common theme."
Enter the HGTV generation
The seniors who are currently moving into Life Plan communities — a mix of the leading edge of the Boomers and the tail end of the Veterans generation — enjoyed economic prosperity and consumer freedom through most of their adult years. They became accustomed to choosing every aspect of their active lifestyles, and aren't willing to give up that freedom of choice just because they've entered a new phase of life.
"They want to keep the amenities they have, even though they may be moving from a pretty large home to a 1,000-square-foot apartment," says Jerry Cripps, an architect with K2M Design® who has overseen a variety of renovation and construction projects for Westminster Village North. "That's why it's important to include the upgrades and amenities people have come to expect." That level of finish is also important when children are helping their parents make decisions about senior living. "When the kids come in looking for a place for Mom, those amenities and design choices are important to them. Family members want a place that looks as much like home as possible."
The popularity of home-design TV shows is also raising the bar for expectations, Cripps says. "People like what they see on HGTV and in magazines. When a community offers those finishes and upgrades, it makes it more attractive for people to make that leap from their home." However, that doesn't mean one set of options is going to work for every potential resident. From floorplans to finishes, today's seniors expect a menu of choices, and tomorrow's prospective residents will expect even more opportunities for customization. The more opportunities communities offer to personalize living spaces, the more attractive and competitive those communities will be.
Building flexibility into communities
A generation back, most senior care communities offered two options: small private apartments for seniors who could care for themselves and a semi-private nursing home environment for those with declining health. As life expectancy increases and the quality of medical care improves, other options have emerged along the continuum of care. Today, most communities offer a combination of some kind of standalone homes or cottages, independent living apartments, assisted living units for residents who need support with some activities of daily living (ADLs), and skilled nursing care (often with a special wing for people with Alzheimer's and other dementia conditions).
Some of those changes have been driven by insurance reimbursement practices and the recognition that even people in poor health are living much longer, notes Cripps. "Today's assisted living apartment is what we would have considered independent living yesterday. And many of the people who are in assisted living settings today would have been in skilled long-term care just 15 years ago."
Westminster Village North was constructed as a sanitarium for tuberculosis patients in the early 20th century, and institutional traces lingered during its first quarter-century as a retirement community. As Cripps and the project team have updated the community's buildings to serve the changing population, they've faced challenges resulting from the original configuration. As they look ahead, they want to ensure that their designs provide few limitations when future changes are needed.
---
What's "retirement"?
An emerging demographic presents new opportunities (and the inevitable challenges) to Life Plan communities. Empty-nesters and other couples in their mid-50s aren't waiting for retirement to sell their homes. Without kids at home, they want to downsize, and they aren't interested in spending time or money on home maintenance.
Age-restricted housing communities appeal to this growing demographic, by combining open floorplans than seem larger than the actual square footage, maintenance services, the kinds of amenities one would find at a vacation resort, and opportunities to socialize with neighbors. This type of development is a natural addition to a Life Plan community, and can provide a new entry point to the current continuum.
For more information on senior living campus and facility design, reach out to Director Phil Howard.
---
About K2M Design & InterDesign
K2M Design®, Inc. continues our strategic growth with the acquisition of The InterDesign Group, located in Indianapolis, Indiana. K2M Design officially acquired InterDesign on May 1, 2017, integrating a talented team of Architects, Interior Designers, Project Managers, and Construction Administrators.
Having completed over 200 projects in the Senior Living and Healthcare markets, the team brings a depth of talent to K2M. Stronger together, we will continue to be leaders in the market, designing for the next generation of seniors.