Creating Gathering Spaces for Today's Seniors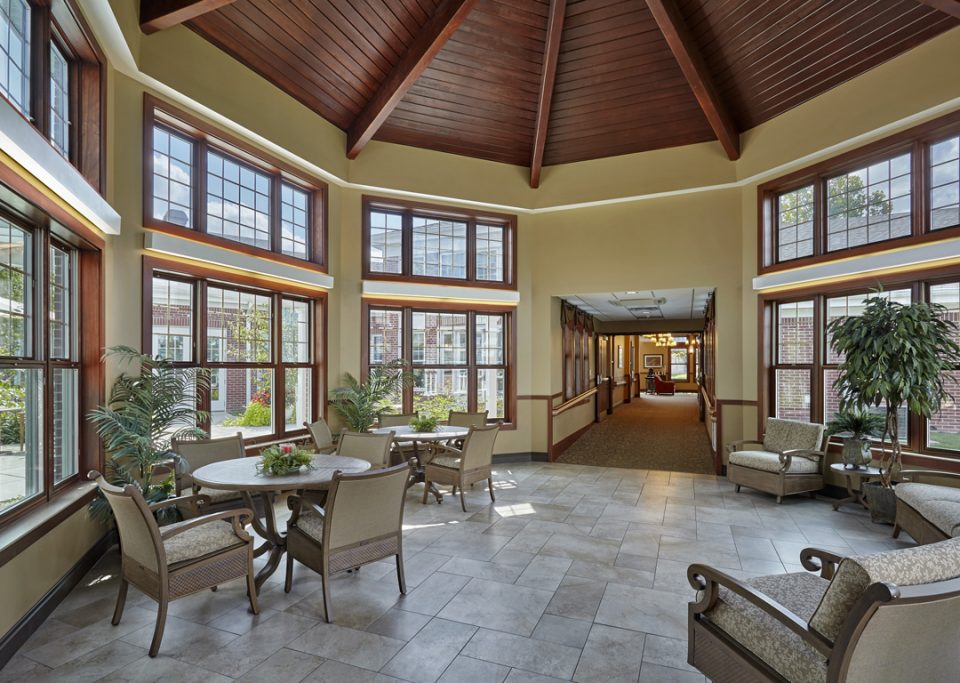 Westminster Village North, Inc., in Indianapolis, Indiana, is a thriving senior living community that took a hard look at how they could remain viable in a changing marketplace. K2M Design, formerly InterDesign, partnered with Westminster Village North to take a bold step towards their future; and this is their story.
In towns and cities, people gather in a variety of places, whether that's the morning coffee klatch at the local McDonald's, the ladies who lunch every Thursday at noon, or the Liar's Club that trades tales on a particular park bench. Residents of Life Plan communities may be less inclined (or less able) to travel to spots off the property, so designers would be wise to create gathering spaces.
Click to download this article >
---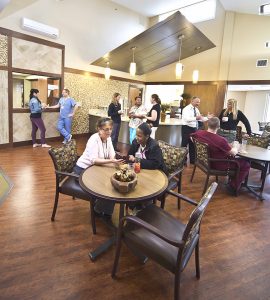 An excellent example is The Bistro at Westminster Village North. Centrally located and modeled after a coffeehouse, the welcoming space serves up beverages and light meal items. It has become a popular meeting place for friends and informal clubs, as well as a convenient break spot for staff members. Indoor and outdoor tables facilitate conversation and provide a sense of "getting away" that's just a short walk for residents.
Another well-though-out space is an area the K2M Design team refers to as the Loggia. "It was actually a connection point to provide a more direct route between the rehabilitation wing and the therapy room," Cripps explains. "Before we built that connection, rehab patients would have to walk down a corridor in the long-term care area. We also wanted to create multiple areas where family members could visit without having to sit in the resident's room. We designed the Loggia as an octagonal space with windows all around, so it receives a lot of natural light. It becomes a wide spot in the corridor that provides great spaces for conversation."
---
Making consistent impressions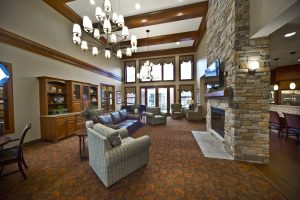 A hallmark of successful Life Plan communities like Westminster Village North is an image and attitude that is consistent through the entire community. From the moment a visitor arrives at the front office through wherever he or she goes within the community, every impression and experience reiterates the mission. The art and décor in all the buildings carries a nature theme, reflecting the residents and staff's pride in the community's wooded creekside setting. That brand is echoed in marketing materials and on Westminster's website.
Today's prospective resident approaches a community with expectations that weren't common when she started at Westminster, Rauch notes. "They want to see contemporary appliances, updated countertops, choices in flooring, concierge services, onsite banking, a 24-hour receptionist, and excellent dining. They want a community that's willing to work with their personal preferences and that is safe and secure. If they have to stay in the health center or the rehab wing, they want more than a pedestal sink in the bathroom. They want a cabinet where they can put their toiletries, just like they do at home."
The rehab wing includes many of the amenities used in the independent and assisted living sections, allowing it to serve as passive marketing. "Not everyone comes into a community as an independent living resident," says Rauch. "Sometimes they arrive in long-term care or assisted living because of a catastrophic health change, and once they recover, they move to the next step in the continuum." Or someone who has a short-term stay in the rehab wing may eventually decide to become a permanent resident.
Rauch sees the consistent image as a key benefit of using the master planning process to enhance community. "It makes you think not only about what you want to do today, but how that is going to impact your campus in the future," she says. "We have great grounds, but like anyone else, we have a limited amount of land. Through the master plan, we were able to see how we could best utilize that land to maintain our warm and inviting campus. It gave us a great road map to determine exactly how it will all fit together in the end."
---
About K2M Design & InterDesign
K2M Design®, Inc. continues our strategic growth with the acquisition of The InterDesign Group, located in Indianapolis, Indiana. K2M Design officially acquired InterDesign on May 1, 2017, integrating a talented team of Architects, Interior Designers, Project Managers, and Construction Administrators.
Having completed over 200 projects in the Senior Living and Healthcare markets, the team brings a depth of talent to K2M. Stronger together, we will continue to be leaders in the market, designing for the next generation of seniors.