Speeding Construction with a Flexible, Eco-Friendly Product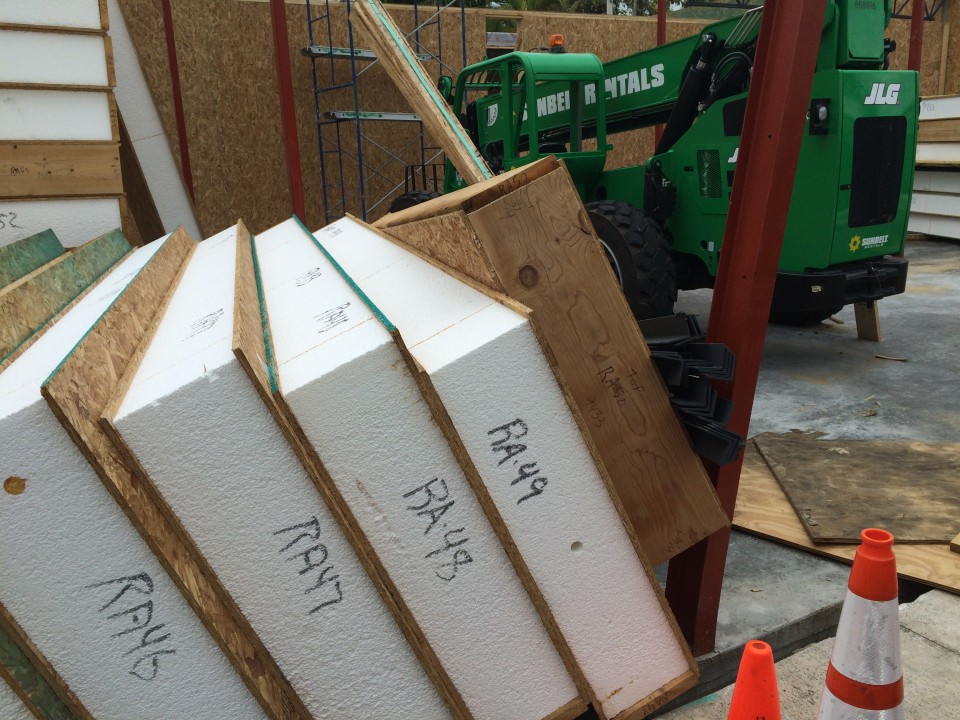 Structural insulated panels (SIPs) are a high performance building system for residential and light commercial construction. The panels consist of an insulating foam core sandwiched between two structural facings, typically oriented strand board (OSB).  SIPs are manufactured under factory controlled conditions and can be fabricated to fit nearly any building design. The result is a building system that is extremely strong, energy efficient, and cost effective.
In the construction of our new Key West office, we used the Renegade Panel by MM&I Construction & Design, Inc.  The walls and roof system were developed by MM&I to resist 180+ mph wind speeds.  Another great benefit is the speed of construction. Our Key West office only took 7 days to erect the full building shell!
SIP buildings typically have a similar cost to wood framed construction depending on the cost of your labor force.  The real benefits are the controlled manufacturing of your wall system, the speed of construction, reduced HVAC tonnage requirements, tighter building envelope, lighter foundation, and the long term energy savings as they are an extremely sustainable product.
Another SIP performance advantage is high STC ratings. They are excellent at keeping outside noise outside making them attractive in projects where this is important. Hotel projects have been built using SIPs as partition walls between guestrooms for this reason. Compared to the complexity of other high STC systems SIPs are extremely fast to construct.
Recommendations –
Work with an architect or engineer that really understands how SIPs work and are integrated into a project.  You need to design with SIPs as a system from the start so you eliminate the redesign costs that otherwise come up.
Chose your manufacturer early and work thru the details of the project.  This will save time (which saves money) in any delays associated with the preparation of shop drawings.
Often the manufacturer can team with a local contractor and show them how to erect the panels.  Not only does this help the local contractor, but teaches them how to install this product on future buildings.
Contact Steve Grasley, PE/COO if you have questions on SIP panels
---