K2M Design Transforms Iconic Downtown Cleveland Hotel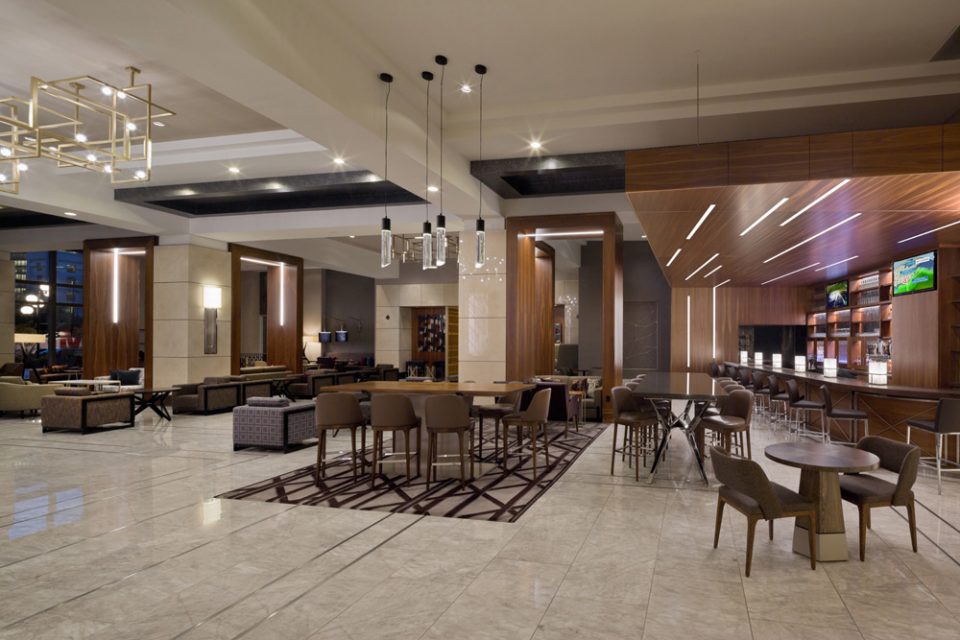 The New Key Marriott Evokes the Pride and Tradition of the City with Creative Design
Fall 2018 – As an iconic building in the downtown Cleveland landscape, the veteran Key Center was poised for a transformation. K2M's Design team of Architects, Engineers, and Interior Designers partnered with new owners, The Millennia Companies, to reinvent the 4-story, 76,000 SF Key Center into a shining star and destination for business and leisure guests alike.
A historical nod to the sophisticated industrial elite of Cleveland's past, inspired the overall renovation. The dated lobby was reconfigured to incorporate Marriott's Greatroom concept and a new front desk location created a grand sense of arrival and a better flow for guests. The new space captures a pride in craftsmanship and quality with its use of custom and innovative combinations of classic materials and fine details. The first-floor renovation continues into the Marriott M Club, an upscale space for Rewards members, outfitted with specially designed fixtures and furnishings that allow guests to unwind and connect in a private and welcoming setting.
The restaurant space has been reinvigorated as a 150 seat Italian fine dining experience called Il Venetian. Clean lines bring chic modern structure, complimenting the elegant custom chandeliers and the prominent glass front wine cellar, providing guests a captivating dining experience.
As visitors move through the main level, they encounter various new tenant spaces such as The Public Square Pantry and the stylish Italian inspired Armando's Barbershop, featuring traditional barber chairs in the masculine yet refined space. Amenities continue on the 3rd floor, where guests enjoy state of the art fitness equipment and a full-service day spa at the 25,000SF Vedas Fitness and Spa.
Event spaces received state of the art upgrades and offer flexibility to accommodate groups from 5 – 1,500. The second floor has over 17,000SF of pre-function, meeting rooms, and event spaces, including the sophisticated and clean design of the Marriott Grand Ballroom, which can be divided into smaller meeting rooms. On the 4th floor, previously home to the iconic Key Club, the spaces were reimagined as the St. Clair Ballroom and can accommodate up to 300 guests. The rich design features luxurious fabrics and finishes throughout the pre-function, bar, and ballroom.
Reminiscent of an era gone by, the classic design at Key Center infuses old with new and offers guests a dynamic environment to work, dine, and gather while staying connected. With the transformation complete, The Key Center stands proud once again as a historic landmark on the Cleveland skyline.
---
About K2M Design®, Inc.
Empowered individual leadership and creativity embody the strengths of our design teams. We are a dynamic, high-growth Architecture, Engineering, and Interior Design firm with a multi-discipline Facility Assessment division. Our established regional teams are strengthened by the depth of our experience and are united by an ambitious spirit and proven ability to manage projects. The People of K2M are our most valuable resource and your Project is their passion. That is the drive behind our design services. Our professionals are invested in nurturing long-term relationships and the ongoing success of your projects. We are living out our mission of Building Relationships Based on Trust and Results.
Media Contact:
Stephanie Cieszkowski – K2M Design, Inc.
scieszkowski@K2Mdesign.com
Ph: 216.588.0739
# # #
---
This slideshow requires JavaScript.