K2M Design Transforms Iconic Downtown Cleveland Hotel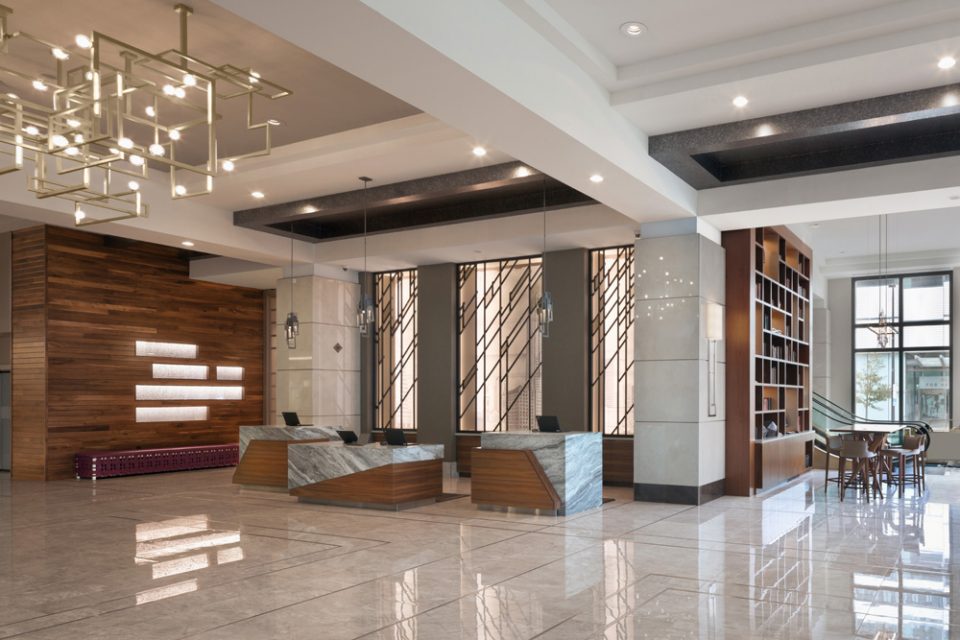 The New Key Marriott Evokes the Pride and Tradition of the City with Creative Design
Fall 2018 – As a central building in the downtown landscape, the Key Center in downtown Cleveland was in dire need of a renovation to successfully compete with the expanding hospitality and event space in the City. K2M Design's team of Architects and Interior Designers partnered with new owners, The Millennia Companies, to reinvent the Key Center into a shining star and destination for business and leisure guests alike. The 76,000 SF of public spaces within the hotel encompasses 4-stories and were previously home to two restaurants, the Marriott hotel lobby, and two ballrooms, all featuring dark woodwork, outdated furniture and upholstery.
 K2M Wins iDesign "Best in Hospitality" Award for Key Center Renovation >
The team transformed the dated lobby and created a greater sense of arrival and a better flow for guests which was inspired by the sophisticated industrial elite of Cleveland's past. The new space captures a sense of pride in craftsmanship and quality with its use of custom and innovative combinations of classic materials and fine details.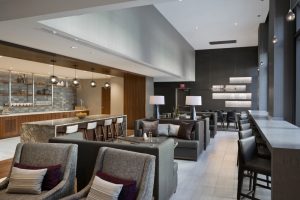 The renovated hotel now features an M Club, an upscale space for Marriott Rewards members, which is outfitted with custom fixtures and furnishings that allow guests to unwind and connect in a private and welcoming space.
The first floor restaurant has been transformed into a 150 seat fine Italian dining experience, the Il Venetian. Clean lines bring chic, modern structure complimenting the elegant custom chandeliers, accompanying wall sconces, and the prominent glass front wine cellar in the high-end dining environment.
As guests move through the main level, they encounter various new tenant spaces such as The Public Square Pantry and the stylish Italian inspired Armando's Barbershop, with traditional barber chairs, and masculine yet refined space. Guest amenities continue on the 3rd floor, where guests enjoy state of the art fitness equipment and a full-service day spa at the 25,000SF Vedas Fitness and Spa .
Event spaces received state of the art upgrades and offer flexibility to accommodate groups from 5 – 1,500. The second floor has over 17,000SF of pre-function, meeting rooms, and event spaces. The Grand Ballroom for the Marriott Hotel features modern geometric fixtures and timeless tones with deep burgundy as an accent color. The 4th floor, which was home to the former iconic Key Club has been reimagined as the St. Clair Ballroom and can accommodate up to 300 guests. The design reflects the culturally rich local history, with luxurious fabrics, and finishes throughout the pre-function and ballroom in a sophisticated navy and gold palette.
---