DoubleTree Jamestown: A Diamond in the Pearl City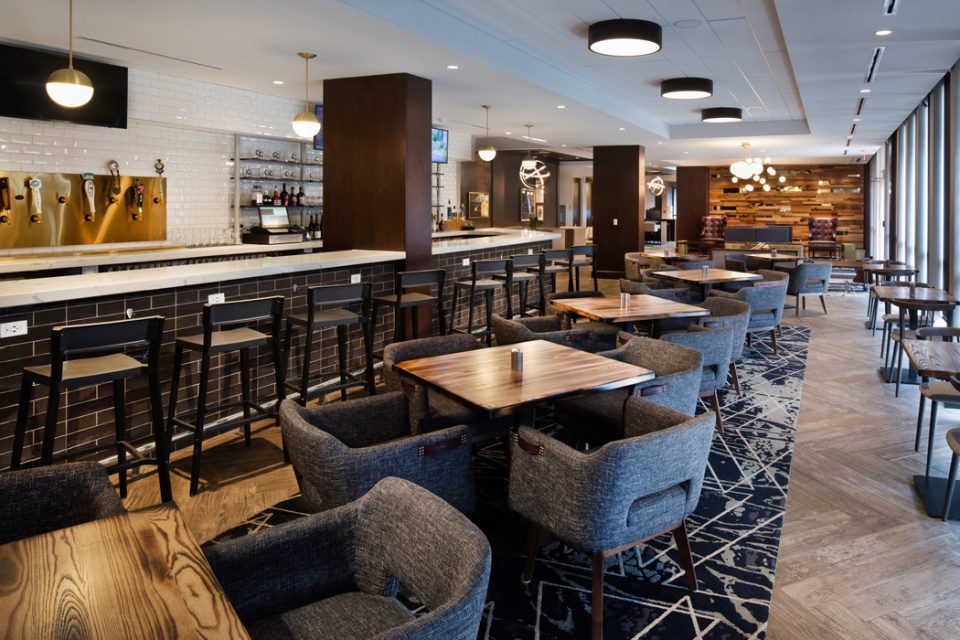 Persistence Allows the New DoubleTree Jamestown to Shine
Spring 2019 – The new, full-service DoubleTree by Hilton, Jamestown shines with the brilliance of a diamond for travelers visiting the Pearl City. Located just steps away from the historic district, the $21.6M renovation pulled inspiration from times gone by when Jamestown, NY was one of the few stops on the railway connection between New York City and Chicago. K2M Design utilized the full strength of its firm, providing Architecture, Engineering, and Interior Design services for renovating the entire property.
The Hamister Group, a hotel developer based in Buffalo, NY, purchased the former Ramada Inn and immediately closed the property for a total "shut and gut". Working with local businesses and contractors, Hamister committed nearly four years to delivering a much-needed full-service hotel to the city of Jamestown. The team celebrated with a grand opening in March 2019.
A two-story, horizontally planked, wood screen backdrops a glass-paneled staircase, welcoming guests to the hotel. The peek-a-boo wall offers glimpses of activity and visually connects the main floor bar to the second floor restaurant. The connectivity zone featuring geometric wallcovering, high backed sofas and rustic warmth, flows into the upscale sports bar area creating a dynamic hub and a hot spot for locals and hotel guests alike. Within the Pearl City Hops Bar and Restaurant, industrial merges with refined, where charred wood tables are paired with richly textured upholstery and mixed metal detailing. An abundance of natural light highlights the spaces by day and adds the soft glow of the city by night.
Throughout the hotel, polished historical glamour is paired with energetic décor characterized by lineal repetition, deep tones, and streaks of color. As guests journey through the hotel, the second floor pre-function area welcomes them with deep garnet leather seating and smokey blue-grey carpet. This custom renovation continues to glimmer with clean lines and dramatic carpeting in the 4,100 SF ballroom and meeting space. A new fitness center, indoor pool, and outdoor patio add to the amenities offered by the hotel. The 147 guestrooms are highlighted by playful, repetitive elements, and saturated hues. The DoubleTree in Jamestown will not disappoint, as it honors the city's past while offering guests 21st century luxury.
---
About K2M Design®, Inc.
Empowerment, creativity, and individual leadership embody the strengths of K2M's design teams. K2M Design is a dynamic, high-growth Architecture, Engineering, and Interior Design firm with a multi-discipline Facility Assessment division. Established regional teams are strengthened by depth of experience and united by an ambitious spirit and proven ability to manage projects. The People are K2M's are most valuable resource and Projects are their passion. K2M's professionals are invested in nurturing long-term relationships and the ongoing success of projects, living out their mission of Building Relationships Based on Trust and Results. www.K2Mdesign.com
Media Contact:
Stephanie Cieszkowski – K2M Design, Inc.
scieszkowski@K2Mdesign.com
Ph: 216.588.0739
# # #