Using Millwork to Revitalize Tired Lobby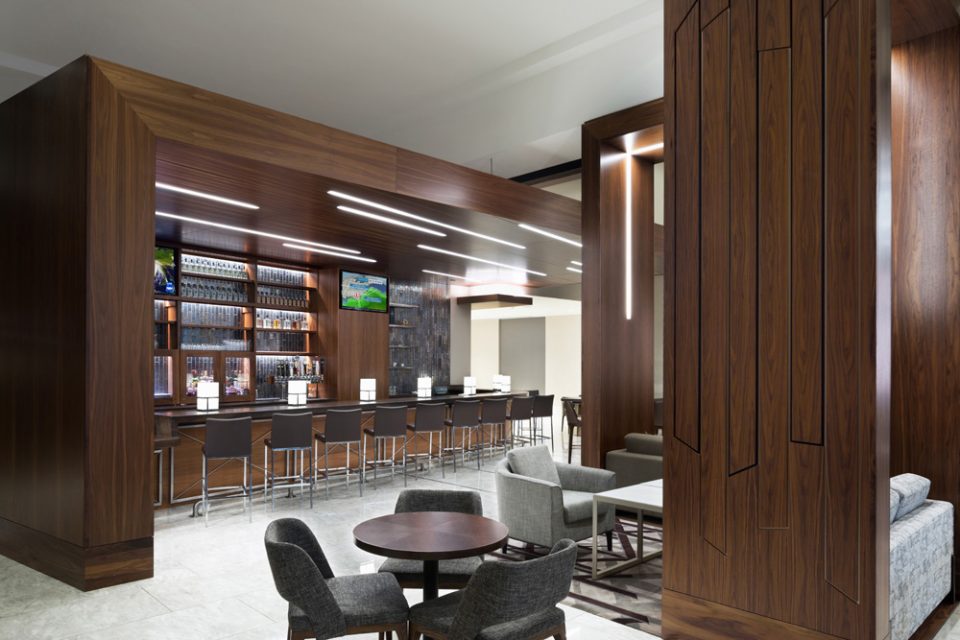 The new Greatroom for the Marriott Hotel at Key Tower transformed the dated lobby and created a greater sense of arrival and a better flow for guests. Architectural features were designed to enrich the space using custom millwork to created walnut wood canopies above the bar area and around seating nooks. The warm wood color palette is highlighted with use of textiles, natural stone, and metal materials.
On the outside ends of the seating nooks, decorative patterns were revealed for a custom detail. Routed out from the walnut wood a champagne metal tone is used to tie in complementing metals in space. The warm wood continues on the floor in the seating nooks with walnut wood plank flooring installed to visually connect the nook to the space.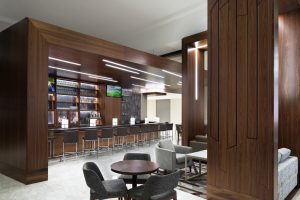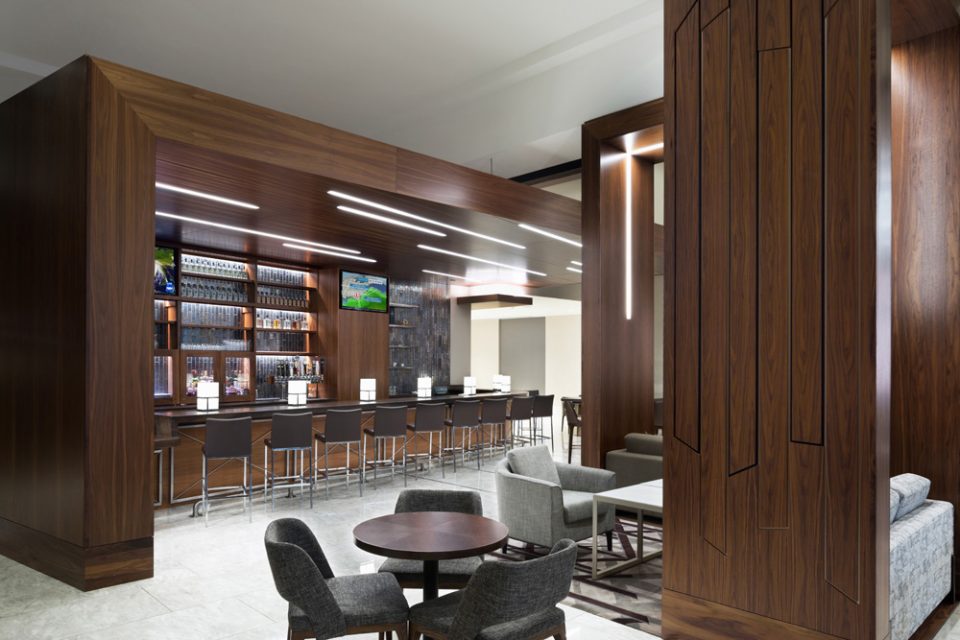 Recessed LED lighting was carefully coordinated with the wood canopies to accent the vertical and horizontal intersections. All the lighting is independently dimmable to adjust based on time of day and seat arrangements. Due to the large surface of the canopy at the bar, walnut wood panels were laid with linear lighting to compose intriguing views for guests. The thoughtful seating and table arrangements were combined with conveniently located technology, allowing guests to have dynamic areas to work, dine, and gather while staying connected.
Although large in scale, the space was designed to feel welcoming for groups of any size, utilizing mixed materials of metal and wood, along with custom furnishings, artwork, and decorative light fixtures. Inspired by the sophisticated industrial elite of years past, the new space captures a sense of pride in craftsmanship and quality with its use of custom and innovative combinations of classic materials and fine details.
Thank you to our millwork vendors: Benchmark, Reserve, and Royal.
---