Hilton Garden Inn and Homewood Suites | Toledo, Ohio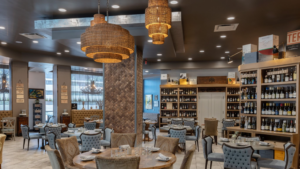 As part of the revitalization of downtown Toledo, Ohio, the overall design of Hilton's dual-brand hotel—Hilton Garden Inn and Homewood Suites—pays homage to the city's history as the "Glass Capital of the World." Situated one block from the Maumee River, adjacent to the convention center and plaza, the existing property needed a top-to-bottom interior renovation to modernize and rebrand the previous owner's outdated property. Natural textures and timeless elements important to the hotel brand are incorporated into the design.
Thank you to our management and development partners First Hospitality Group and Continental Real Estate for their dedication to this project!