Top Trends in Workplace Design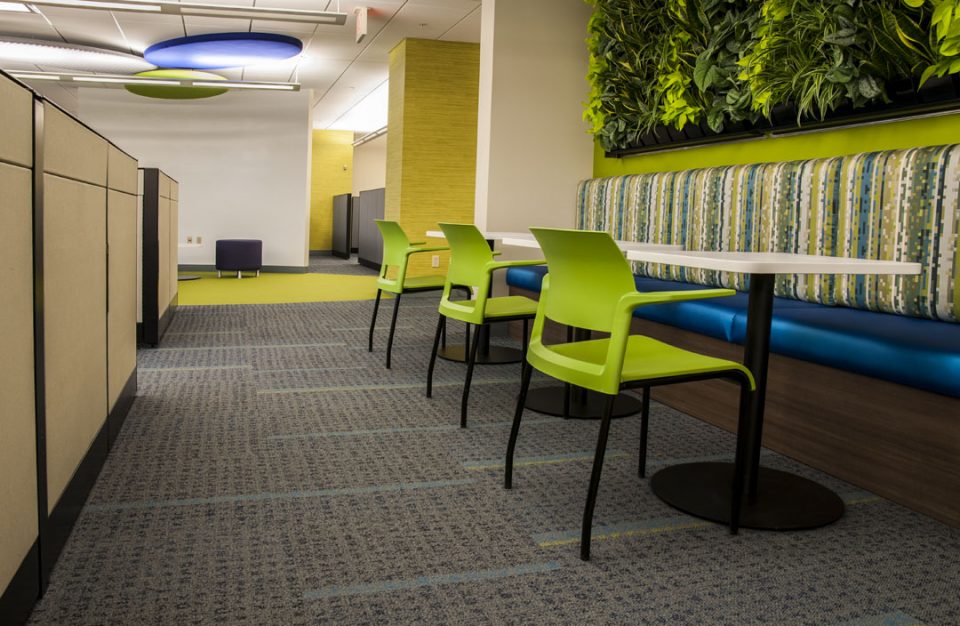 The ways to engage your workforce within your office continues to expand. Building an environment that attracts the best people takes a space that provides flexibility, and choices for where, when, and how work happens in an office space. The newest trends in workplace design focus on people: bringing people together, giving people flexibility, and making their work place as productive as possible. Here are the top trends in workplace design.
Hiding the wires
If we could only all be Tim Cook at Apple and have a perfect looking work space! The reality is there are wires everywhere – thankfully many of the furniture companies are creating new designs that provide meaningful solutions to hiding wires.  Won't it be nice when everything is Bluetooth and we don't even need wires?
Bringing the Outside In
This has been on trend for years, but nature still plays a large part in design especially design with natural and reclaimed materials. Check out the space we designed for Brandmuscle; the design incorporated a living wall.
Lighting
Better workplace lighting (both natural daylight and artificial light) has been linked to a 15 percent reduction in absenteeism in office environments. Having a balance of the two increases your sensory functions and provides for a healthier work environment.
Organization with Color
Scott Maloney recently toured a new office space whose entire operational function was dictated by color. Multiple studies show color boosts creativity, productivity, and happiness. Creating vibrant offices is a critical component to recruiting and retaining top talent.
Multi-Purpose Work Space
Workstations are disappearing; benching is in full swing (Acumen Solutions is great example); non-assigned seating is becoming more popular; and the world is working in an nontraditional way. Flexible work spaces allow the employee to work in a variety of seating configurations from bar top tables, to desk & chair, to soft seating groups, to 2-person tables, etc. – the possibilities are endless! We are also seeing more oval shaped tables that can seat 4-6 people comfortably.
Communal Tables
Hotel and restaurant industries have been doing this for years – cafeteria style, long tables with 5, 10, 20 seats. It's a trend that commercial office designers have grabbed a hold of. It's yet another great way to promote collaboration.
Mobility
Crucial to today's workforce, employees are working at home, on a plane, in a hotel, at the local coffee shop, or at client sites. They need to be supported with technology and business processes that allow them to work effectively wherever they are. Mobile office pods are a fun and comfortable way to accommodate mobile workers. The importance of mobility ties back to multi-purpose, unassigned work spaces – get untethered and go mobile!
For business owners, directors, and managers, the focus remains on people: being able to attract them, retain them, grown them, and shape their experiences through the built environment.
---