Office Hotelling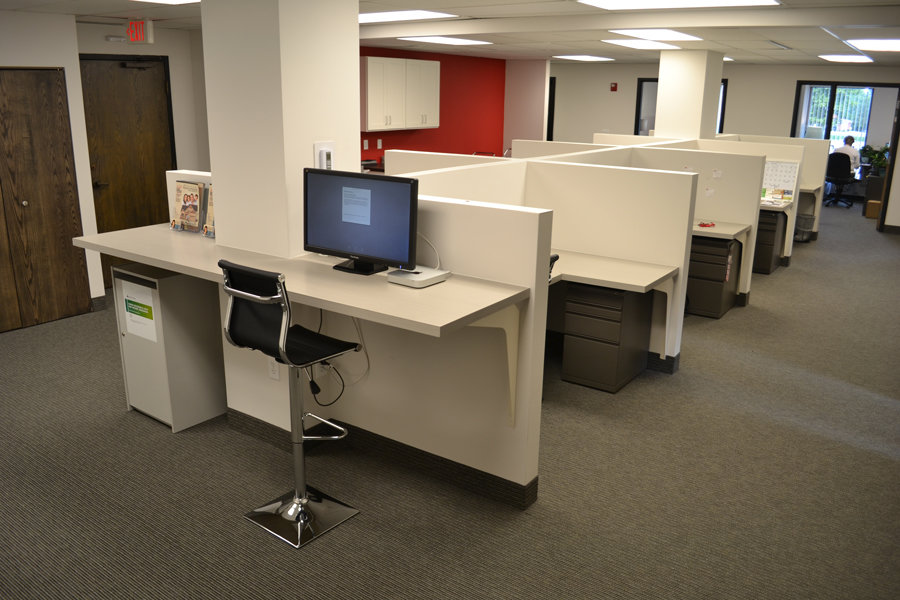 With the advent of mobility made possible by technology (smart phones, tablets and ever smaller laptops), there are greater opportunities for a flexible work environment. With technology, comes freedom from paper that has traditionally tied us to a fixed office – making possible the true paperless office environment. In reality, it has changed the very concept of "an office"; it's now a Starbucks, a park bench, a conference room, a desk, all of the above. Mobility is the ability to choose to be productive in spaces and places other than one's desk, based on what will best suit the task to be performed.
Office hotelling, touchdown desks, hot desking – no matter what you call it – it's a method of reserving space and resources versus assigning an employee to a specific desk. Instead of having a designated desk for each employee, your staff members can reserve a desk, a spot at a communal table, an ergonomic work pod, or meeting room based on their needs that day.
Hotelling works best when you have at least 25% of your staff working remotely on any given day. There are many benefits to office hotelling including: financial savings – you could potentially reduce the square footage of your office space by efficiently defining your peak needs; opportunity to centralize and streamline resources – digitizing your file system eliminates redundancy office storage, and potential errors; employee empowerment – by giving your staff a flexible work environment and removing the requirement of daily attendance, you can increase moral and productivity while promoting employee interaction that is difficult in a 1 to 1 configuration. It also flattens the power structure, anyone can reserve the corner office.
Hotelling might sound like a fun idea for your office, but before you start taking reservations, take some of these tidbits into consideration:
Clean and organize your company file process and develop streamlined systems for file organization before implementing hotelling. Create procedures for labelling and reviewing records, so that people know where to look for items they are looking for.
Be proactive to understand and troubleshoot potential issues. Have a method for accommodating different types of visits, but also understand the challenges of providing items that might promote longer or shorter stays. For individuals who utilize short visits, a simple desk or communal table with power outlets and internet capability would be adequate. Longer visiting individuals might require additional file storage, white boards, etc., but these spaces will then be unavailable to the drop in visitor. Lockers are also helpful for individuals who use the same location regularly. Plan for overflow spaces when capacity passes the expected peak.
Systems for finding personnel who are on site and locating employees who are off site are important. Daily walk about checks can be reduced with technology such as occupancy sensors that can indicate whether a desk or conference room is in use. Some of the newer systems allow for reservations, wayfinding, and roll calling that can be accessed remotely or displayed in a common area. These programs can also help you leverage your space needs more efficiently.
Like most things, communication is key. Creating a larger mission and making sure your employees understand the benefits of office hotelling (greater mobility and flexibility, improved networking, efficient file storage) to get buy in before implementing a broad change within your company. Change Management is an important part of the process.
Visit other companies who have implemented hotelling, or host a lunch and learn to understand their experience.
As workplace environments continue to evolve we can help your team adapt to change. Every company has a unique DNA that works best, our collective experience and research can your team find the perfect fit!