Allen County's New Juvenile Justice Facility Brings New Face to Juvenile Justice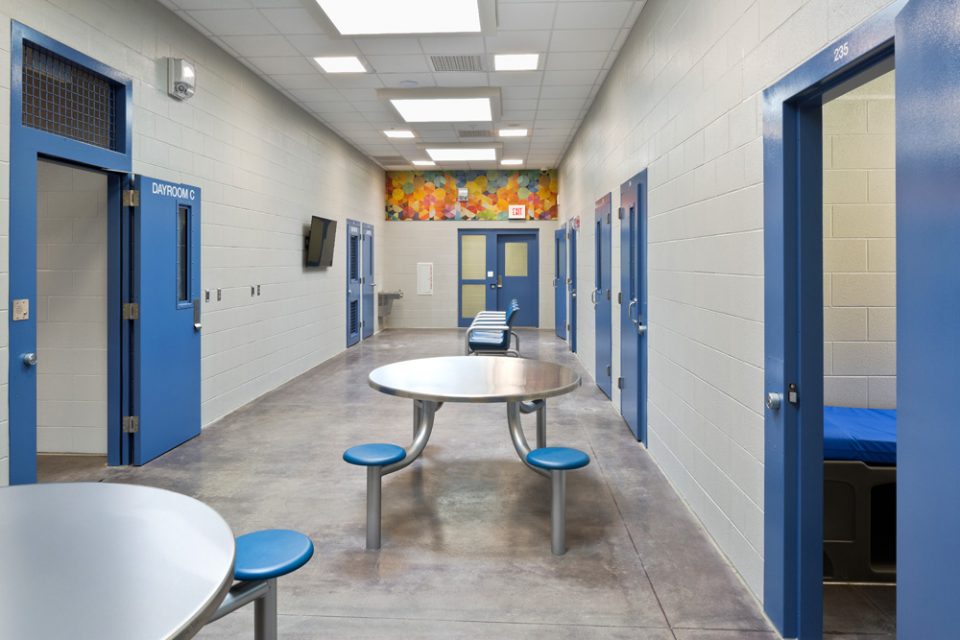 K2M Design® and Allen County partner for success
Fall 2019 – K2M Design was privileged to provide architecture, design and engineering for the recently opened Allen County Juvenile Justice Facility. The relationship with Allen County began years ago when K2M Design was retained to provide a complete facility assessment and planning study to help reshape their juvenile justice facilities. Upon the successful completion of the planning study, the County retained K2M Design to execute their vision for the Juvenile Justice Center.
The 20,000 square foot, single-story detention center was designed with the purpose to reshape the detention-based focus to a more treatment / therapeutic environment. K2M provided extensive programming and planning sessions with the County stakeholders to ensure the facility was designed to meet the changing needs of the youth in Allen County. During visioning sessions with the County, the team identified, discussed and prioritized the values and goals that impacted the design and led to the overall success of the project. In addition to the institutional purposes and growth objectives, criteria that was evaluated for the benefit of the community included cultural, technological, temporal, aesthetic, symbolic, economic, environmental, and security.
The detention center celebrated a grand opening on August 28th, with a dedication and open house which was attended by special guests including; local politicians, a State Representative, Allen County Board of Commissioners, law enforcement. The local Honor Guard assisted with a flag raising at this distinctive facility.
---
About K2M Design®, Inc.
Empowered individual leadership and creativity embody the strengths of our design teams. We are a dynamic, high-growth Architecture, Engineering, and Interior Design firm with a multi-discipline Facility Assessment division. Our established regional teams are strengthened by the depth of our experience and are united by an ambitious spirit and proven ability to manage projects. The People of K2M are our most valuable resource and your Project is their passion. That is the drive behind our design services. Our professionals are invested in nurturing long-term relationships and the ongoing success of your projects. We are living out our mission of Building Relationships Based on Trust and Results. www.K2Mdesign.com
Media Contact:
Stephanie Cieszkowski – K2M Design, Inc.
scieszkowski@K2Mdesign.com
Ph: 216.588.0739
# # #