K2M Design Celebrates the Grand Re-Opening of Marathon Office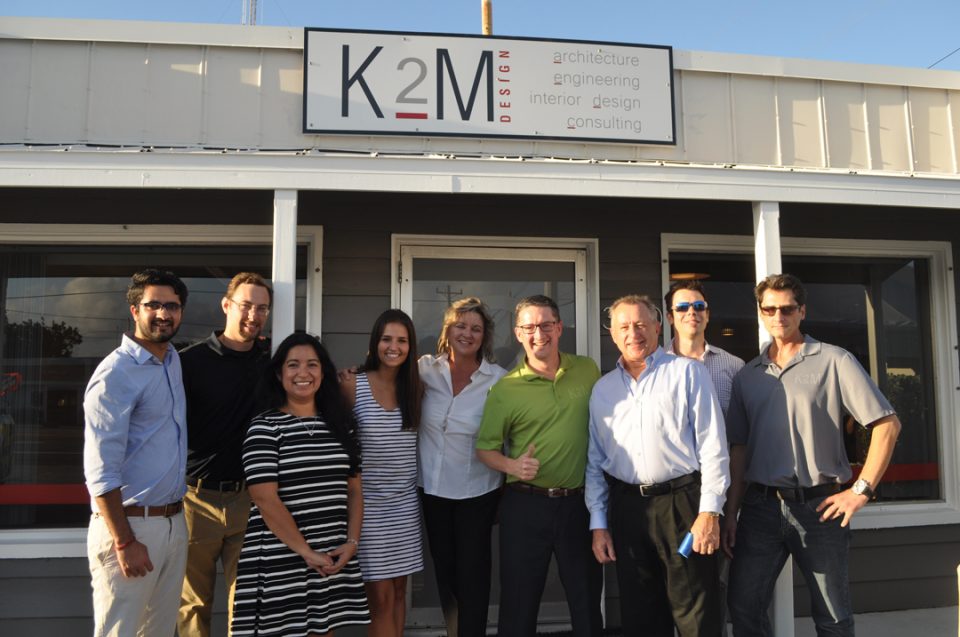 Marathon, FL – November 2016 – K2M Design continues to invest in the Keys with the recent renovation of their Marathon office, located at 3000 Overseas Highway. The Marathon community and K2M Staff members celebrated the Grand Re-Opening with a ribbon cutting ceremony and cocktail party on November 1st. K2M Design merged with Solaria Design in 2014, becoming the only full-service provider of architecture, engineering, interior design, and planning in Monroe County. The Marathon office renovation was one of the final steps in this merger, creating a unified brand to provide professional services in both the public and private sectors throughout the Keys.
K2M's investment doesn't stop in the Middle Keys, the firm will open a new office in Historic Key West in the coming months. The new facility, designed by the K2M team will open on the corner of White Street and Virginia, moving the firm from their previous location on Whitehead Street. The sustainably engineered facility will also provide new retail space, accommodating up to three tenants within Old Town Key West. The firm is excited to share their new office with the community and look forward to a Grand Opening Celebration for the Key West location in early 2017.
Additionally, earlier in 2016, K2M opened a branch office in Key Largo. These strategic locations allow the team to efficiently serve the Upper, Middle and Lower Keys with prompt and reliable professional services. "Having locations within the entire Florida Keys creates a nimble and productive project process throughout our geographic area. Our ongoing dedication to our Client relationships in the Keys, along with an opportunistic outlook on future growth made this dream a reality." Stated Steve Grasley, COO of K2M and long-time Keys resident.
The Keys operations are led by Steve Grasley, AIA, who is passionate about growing K2M relationships and presence in the Keys and South Florida. In addition to the renovation in Marathon and the new site in Key West, K2M has also provided professional services for multiple projects within the Keys recently, including Marathon City Hall, Angler and Ale at Hawk's Cay, The Key West Doubletree Resort, the Marathon and Key West airport customs facilities, and numerous residential projects along with several charitable projects for the Boys and Girls Club and Habitat for Humanity.
---