Maloney on the Move: Mexico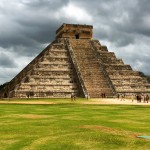 Last week Scott Maloney took an excursion to Chichen Itza on the Yucatan Peninsula in Mexico.
The Mayan ruin city was constructed nearly 1000 years BC – oddly enough it was re-found in 1850 and restored by Andrew Carnegie in the 1920s.
Here's a couple snaps from his trip!
---