Energy Services Team Expanding!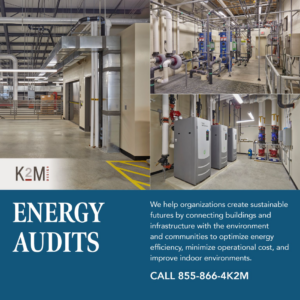 We're excited to announce that our energy services team has expanded with three new members, including Joseph Moody as our Specialty Services Leader! As a firm, we work with organizations and institutions to create sustainable paths forward by connecting buildings and infrastructure with the environment and communities.
Our team's mission is to maximize your facilities' potential by optimizing energy efficiency, minimizing operational costs, enhancing environmental sustainability, and improving healthy and comfortable indoor environments. We take pride in our work and are honored to be contracted with NASA to conduct energy audits on their worldwide facilities. This year, we are auditing 127 of NASA's buildings at four of their major centers, helping them to achieve their sustainability goals.
Whether your facilities are large and expansive or focused and concentrated, our team at K2M can assist you with optimizing your energy needs. For more information, please contact Joe Moody, our Director of Specialty Services, at 855-866-4K2M.
We are passionate about creating sustainable solutions and are thrilled to continue growing our team to better serve our clients.