Landscape Architecture: Extreme ROI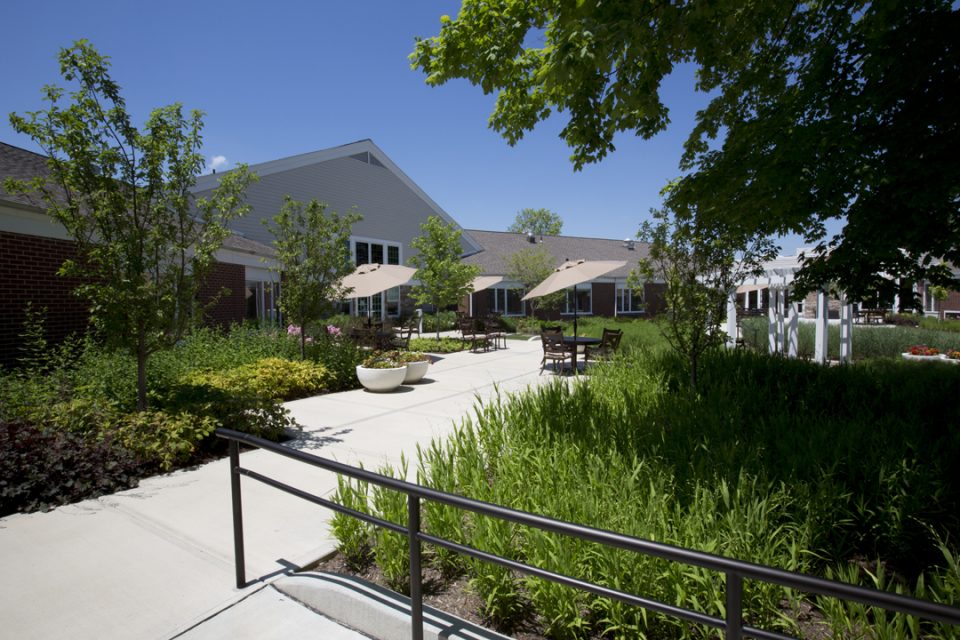 K2M provides many services related to site and landscape renovation and design, including Master Planning, Streetscape Renovation, Playground Design, Site Image, Wayfinding and Signage, Sustainable Designs, and Therapeutic Garden Design.
Why sitework deserves priority
From universities to hotels to senior living facilities, studies have shown that potential clients/users form their initial impressions and decision to "buy-in" or not within minutes of arrival. That sense of arrival is often created primarily by the sitework and landscaping. With the lowest per square foot cost of a project's budget, sitework is a great value as it performs so many crucial functions including initial impression, way-finding, outdoor functional space, employee satisfaction and retention, and health and environmental benefits.
Outdoor Rooms
When designing or renovating facilities, many communities neglect the potential advantages of well-planned outdoor spaces. "Some managers will tell us they don't see a need to do anything outdoors because their residents just don't want to go outside," says Dan Ware, Director of Senior Living Practice Group. "We'll point out that nobody wants to go out because there's no shade, and because the sidewalks are constructed so that if a wheelchair slips off, it's going to fall over. Simply put, if spaces are unusable, nobody is going to use them."
It all starts with a Master Plan Master planning for the Future
A Master Plan is a graphic representation of your vision that provides guidance for its implementation over time. Our process centers on extensive input from all stakeholders, our willingness to ask tough questions, and the design of creative options for consideration. The final plan is a blend of the best option elements into one solution built on consensus. We have continued to update Master Plans for many of our clients as a living, adaptable document that responds to their changing priorities, and the demands of the marketplace.
For more information, please see our Site Architecture Brochure >.
---
Karen Bird is a registered Landscape Architect with over 30 years of experience in site design on a variety of project types, from campus master planning to intimate courtyard gardens. Her passion for native plants and love of nature influence her work, as well as her professional and civic leadership roles in the Indiana Native Plant and Wildflower Society, and Keep Indianapolis Beautiful community garden projects.
---
This slideshow requires JavaScript.