K2Mrs on the Move: Nick Tinl in Nepal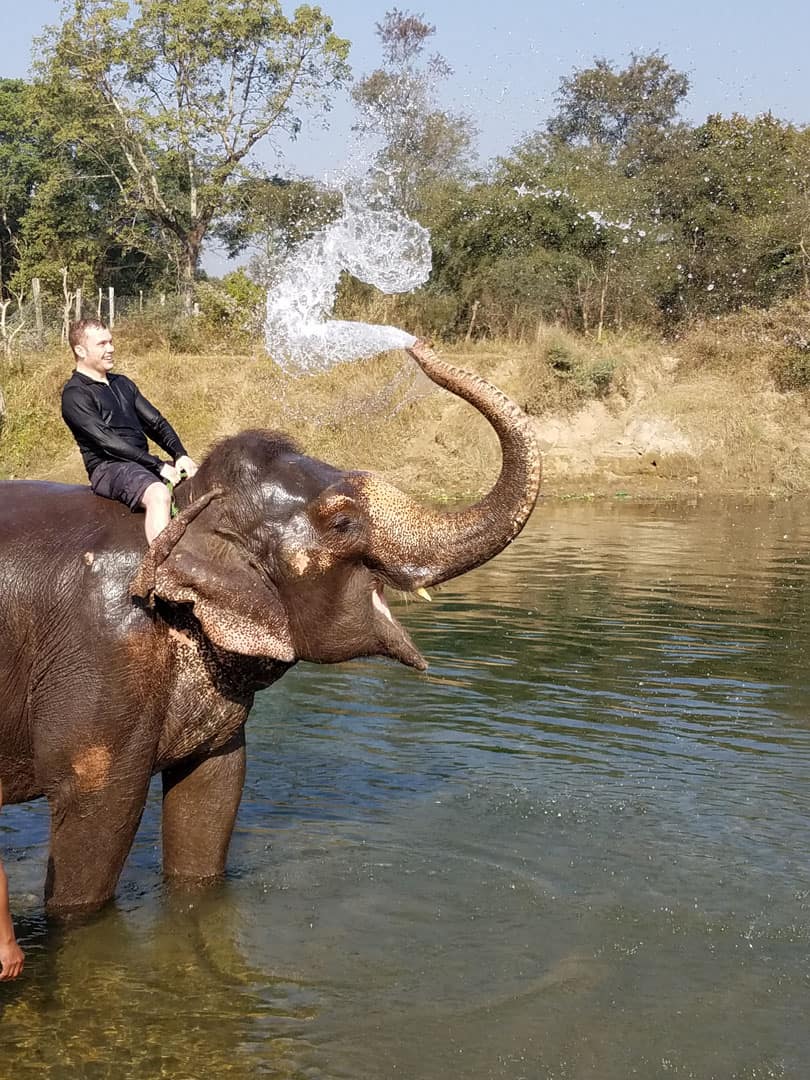 K2Mr Nick Tinl had the privilege to visit the diverse and beautiful country of Nepal. To say things are different there is an understatement.
In broad strokes the itinerary went like this:
Day 1: Landed in Kathmandu
Day 2: Walked around Kathmandu. Realized life is different here.
Day 3: Traveled to Chitwan (Sketchiest bus ride of his life), Brief tour of the park at Sauraha
Day 4: Did Safaris (Elephant, Canoe, Walking) in Chitwan, saw animals, became one with nature.
Day 5: Bus Ride to Pokhara, Walked around Pokhara a bit.
Day 6 – 9: Trekking to the top of Poon Hill. Saw impossibly big mountains. Felt Small.
Day 10: Bus ride back to Kathmandu
Day 11 – 15: Bumming around Kathmandu.
In Kathmandu, you are struck by the density and proximity in which everyone in the city lives. Buses (the primary means of travel for locals) are never "full" here. At one point, Nick was one of 26 passengers in a bus that was no bigger than a full size van! Taxis, buses, and motorcycles freely intermingle with people, farm equipment, and cows (they roam freely in the city as the majority Hindus consider them holy). There are no crosswalks, stoplights, or median lines to regulate the flow. Despite this, traffic streams in a chaotic harmony that when watching is a struggle to understand. People are kind there – you have to be when you have so little personal space. Boudhanath Stupa, Durbar Square, and Swayambhunath were some of the major sites they saw while in Kathmandu. All were impressive.
For a change of scenery, Nick and his sister headed south to Chitwan National Park. The change in scenery is striking, as you leave behind the Himalayan foothills of the Kathmandu valley and enter the flat, sub-tropical grasslands and jungles of southern Nepal. On their 2 days in Chitwan, they went on a series of safaris (on elephant, canoe, and finally by foot) and encountered all manner of wildlife. Most impressive were the Indian rhinoceroses, which the park is famous for. Though they were hopeful to come across a Bengal tiger, this was not to be. Their guide said they are incredibly rare to spot as they are very shy.
From here Nick and his sister broke off from the rest of the group to go on a 4 day trek with their guide Akash to the top of Poon Hill. While Poon Hill would be more appropriately be called a mountain in America at 10,500 ft. in elevation, here it is just a hill where you can look up another 16,000 ft. to take in the view of the Annapurna and Dhaulagiri ranges. Summitting the hill at dawn was the highlight of the trip. The expansiveness and beauty makes you feel incredibly small. Trekking the Himalayas is a must for anyone visiting here!
---